Graffiti Removal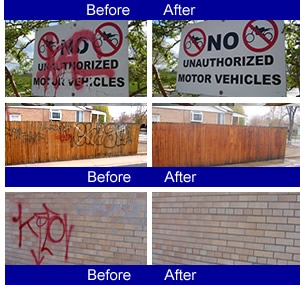 Cleaning Co's products can remove most types of graffiti from most surfaces without damage to the surface or the environment.
Our amazing three product system is the quickest and most complete Graffiti Removal System available.
Surfaces that our graffiti removal products can treat include most brick and concrete surfaces, limestone, sandstone, real estate signs, plastic signage, Perspex, motor vehicles etc. Our product is effective on metal, paint and glazed surfaces.
Our three product system includes:
Bare Brick, Stone, Concrete and Masonry Graffiti Remover -This chemical will remove spray can and other graffiti from these surfaces with the help of a small water blaster.
Sensitive Surface Graffiti Remover -This chemical will remove spray can and permanent markers from sensitive and painted surfaces including varnish. It is also effective at removing Twink!
Felt Tip Fade Out - If a purple marker smear or a brown burn mark is left after using the Sensitive Surface Graffiti remover this product can be brushed on and the unsightly residue will disappear.
Cleaning Co takes pride in restoring your property to its original condition while sending a clear message that graffiti in our communities will not be tolerated.
With our Graffiti Removal Products and our leading edge techniques we are able to remove graffiti a lot more quickly and more efficiently for you.
For a free competitive quote call us free on 0800 22 21 88
or use our
contact page
to email us. We will organise a time to call to assess your needs.